Christmas is such a magical time, and all the more special when children are around. If you're anything like us, you'll be counting the days until it's time to put your Christmas tree up. Any time in December is fair game as far as we're concerned, and once up my sons have always been drawn by its twinkling lights and shiny balls. But how do you baby proof your Christmas tree and keep your baby or toddler safe – and your Christmas tree beautiful?
Putting up the Christmas tree
Whether your Christmas tree is artificial or fresh from the forest, it's worth investing in a Christmas tree stand to keep your masterpiece sturdy and secure. They come in many shapes and sizes so make sure you get the right size for your tree. I love this German-made stand which fits all trees up to 8 feet tall (bigger ones are available). It's easy to put up, holds 2.5 gallons of water and there are no annoying screws to worry about. It's certainly not the cheapest but it's a sound investment that should last year after year if budget isn't an issue.

For a cheaper option – which let's face it is always welcome at Christmas – you could try a folding stand with wheels.
Baby proof Christmas decorations
No Christmas tree baby proofing list would be complete without talking about decorations. How do you avoid choking hazards and breakages?
Get the kids involved
We're all attracted to things we're not supposed to have – especially children – and Christmas decorations are no exception. By getting your kids involved in choosing the decorations and helping to put them on the tree you take away the mystery, making them less likely to yank them off the tree. I usually let my kids decorate the bottom half and I take care of the top (making some minor adjustments after they've gone to bed!).
Use shatterproof decorations
As a mother of boys, breakages are never far from my mind! I always give my boys a selection of shatter-proof decorations for their creation (in fact all but a couple of balls are shatterproof). Be careful to avoid decorations that are small and might fit in your child's mouth.
You can buy wooden decorations or there's a huge selection of shatterproof balls designed to bounce not break. These are great for a red and white color scheme and are great value.
Buy them a mini-tree
This was a game changer for me – partly because I might be just a little bit precious about my Christmas decorations! We have a mini artificial tree that sits in my boys' bedroom and they have complete freedom to decorate it however they like. They love that it's their own creation and they're much less interested in the full-sized tree. A child proofing win!
Check your lights
Christmas lights are the best part of the tree as far as I'm concerned but it's important to buy good quality lights and if possible LED lights, which run cooler than other lights. Either way check for damage before put them on the tree, always switch them off when you're out and keep the plug out of reach/view of your baby or toddler.
Get creative!
Better yet, get them involved in making the decorations. The internet is full of fantastic tutorials for every kind of decoration imaginable and your children will love creating something of their own. They make great gifts for grandparents too. Try these 36 home made decorations for kids from Buzzfeed.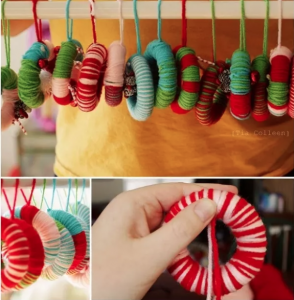 A simple early warning system – bells!
Christmas decorations with bells make a fantastic alarm system for curious kids. Just one wandering hand and 'ding!' – busted! As with all decorations make sure they're big enough to not be a choking hazard, or they're well out of reach. 
These are super cute and will work with lots of different colour schemes.
Don't let your tree dry out
Dry Christmas trees can be a fire hazard. The Electrical Safety Foundation International (ESFI) suggests buying trees fresh, watering them regularly and keeping them 3ft from a heat source.
Use a 
play pen
If you have a particularly curious baby and want complete peace of mind, or don't want to compromise on your favourite decorations, then a Christmas tree guard for babies, toddlers – or even pets – might be the best way to child proof your Christmas tree. There are plenty of configurable gates options available, like this indoor Christmas tree fence which comes in a range of materials and colours. When the holidays are over it an be used as fire guard or play yard, either inside or out.


I hope my tips for baby proofing the Christmas tree are useful! If you have any ideas to share please leave them in the comments below, and check out our other baby proofing tips for the bathroom, bedroom, kitchen and fireplace.